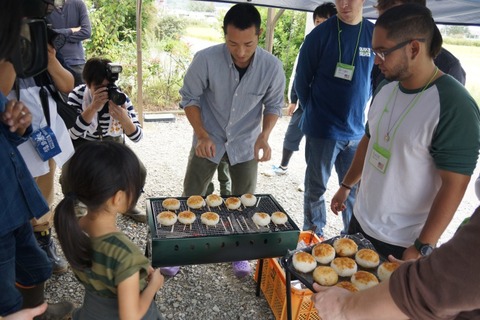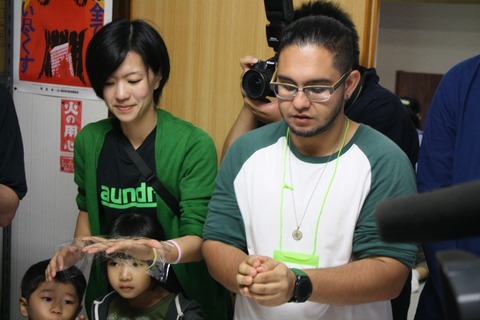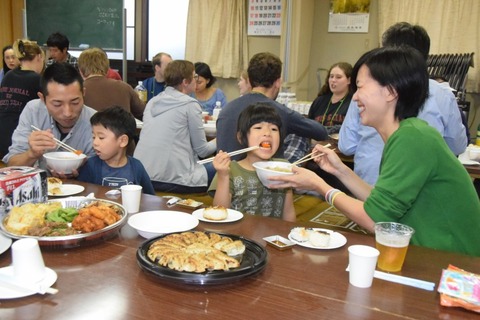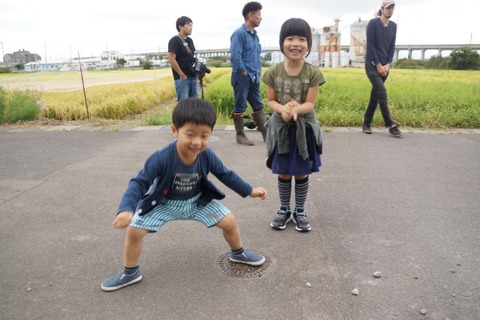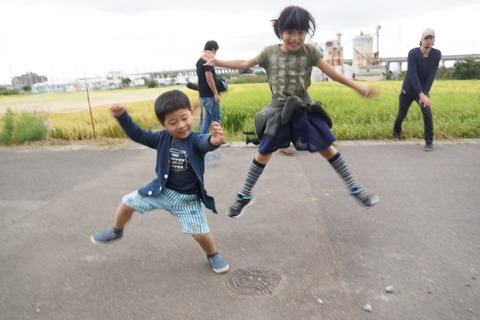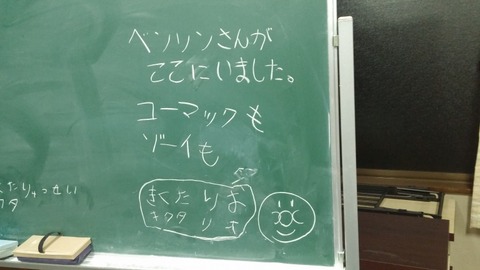 ●Harvesting sake rice & communication party
The friendship between the foreign participants and our kids (5-year-old daughter and 3-year-old son) started from the rice planting event and the following party which were held in May. We could deepen our friendship at the event of installing bird deterrents (CDs) and scarecrows in our rice field in July. So, this rice harvesting event was the third chance for us to meet the foreign participants.
Whenever our kids walked aside the rice field, they checked if the rice was growing healthily and how big they grew.
It seemed that they couldn't wait for this rice harvesting event.
Eventually, the day of the event came along and it was a fine autumn day happily. So we could harvest the rice very lively.
After the activity, we had the communication party at the community center located in front of our rice field. We had been looking forward to the party for a long time! (Perhaps we adults were interested in drinking though.)
We made and tasted rice balls with the members of the "Let's create an Iizaka's original Japanese sake association", Iizaka hot spring tourist association, our settlement and the foreign participants, with a lot of fun. We had a very good time with all the participants.
Our kids served beer and other alcoholic beverages voluntarily to the adults like a waitress and a waiter. They really enjoyed serving and recommending some more beer to the adult attendees.
Above all, it seemed that they enjoyed communicating with the foreign participants whom they had met before a lot, although they were shy to talk to them in the first place. Just after the event my daughter said, "It was fun to cook rice balls together and chat with the foreign participants. I really want to play with them again!". Now she is looking forward to the next opportunity to meet them.
This year must be a special one for us because we could attend all the events regarding the sake rice, from the rice planting event to the rice harvesting event, and we could get to know the foreign participants and the local people. Thanks a bunch.
We would be very happy if we can meet the foreigners periodically. (if possible, frequently.)
Kikuta family (Yuichiro, Miho, Rio, Ryusei)
PS: I think we will be able to meet them again at the poster session of our brand new sake. lol
●酒米の稲刈り&交流会
外国人と我が子どもたち(娘5歳、息子3歳)の交流は、5月の田植えと早苗饗から始まり、7月の鳥よけのための反射で光るCDやカカシの設置、そして今回の稲刈りで3回目になりました。
子どもたちは田んぼの近くを通るたびに稲はどこまで大きくなったか気になる様子で、今回の稲刈りも今か今かと待っていました。
そして、当日は天候にも恵まれ秋空の中、元気いっぱい稲刈りすることができました。
稲刈り後は、稲刈りをした田んぼが目の前に見える集会所で待ちに待った(待っていたのはお酒が飲める親だけ?)交流会がありました。
日本酒を作る会のメンバーをはじめ、飯坂温泉観光協会、地元町内会、そして外国人の方々と焼きおにぎりを作って一緒に「美味しいね」と言いながら食べることができて、楽しい時間を過ごすことができました。
子どもたちは、自主的に店員さんのように皆さんにお酒を勧める担当になり、ビールを注いで回って楽しんでいる様子でした。
中でも、会ったことがある外国の方とのコミュニケーションは、はじめ恥ずかしがっていたものの楽しかったようで、終わった後に娘は、「一緒におにぎり作ったり、お話しできたりしてうれしかった。また遊びたい!!」と次の機会を待ちわびています。
今年は、田植えから稲刈りまで継続して参加できただけでなく、外国の方や地元の方々との触れ合いもでき、親子共々大変貴重な経験をさせていただきありがとうございました。
今後も外国の方々と子どもたちの定期的な交流を楽しみにしています。
PS 次回は日本酒の完成会ですかね。(笑)
菊田雄一郎、美帆、莉央、琉星