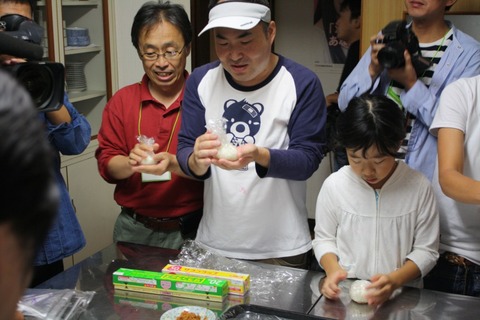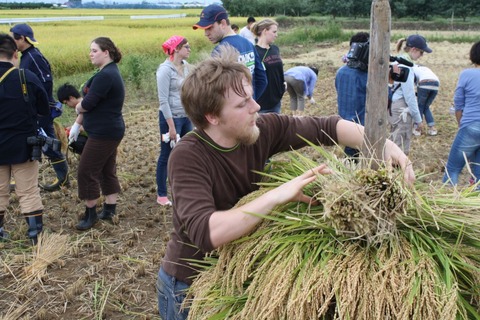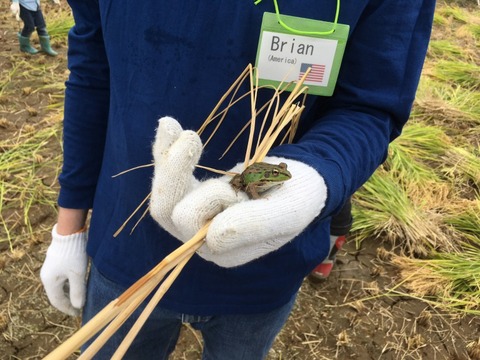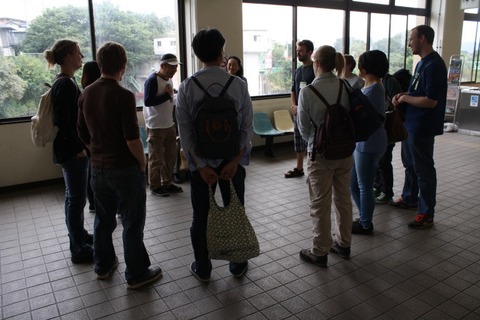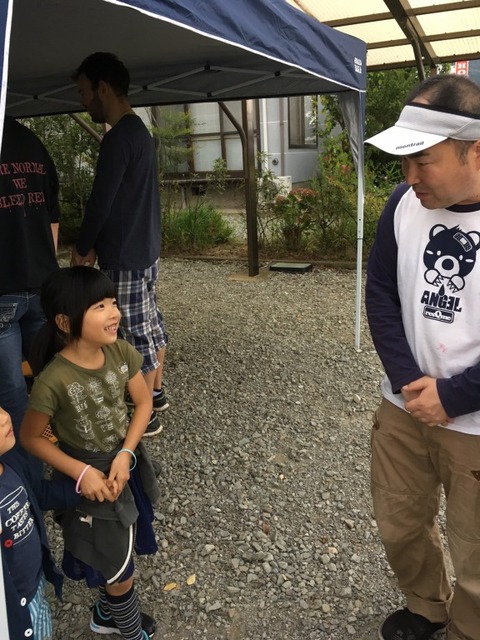 ●Now I'm not hesitant to talk to foreigners!!!
The rice harvesting event was the third time for me to meet the foreign participants. At first I got nervous to talk to them but gradually I am getting accustomed to communicating with them.
All through the events regarding our Japanese sake project, I have been considering how I can convey the splendor of Japan and Fukushima to them. I was worried if I could make myself understood well but nowadays I have just realized that their reactions to my explanations are unexpectedly nice and I have found that it's fun to show them around my area.
Usually I talk to them using "VoiceTra" (translation app). I know the translation is not perfect but whenever I speak to them enthusiastically, the foreigners tend to try to understand me well, so that we can communicate friendly.
It seemed that kids hesitated to talk to the foreign participants. However, now I know the kids are becoming good friends with them. I think the kids are getting the positive perception about the globalization.
This time we harvested the sake rice we had planted before and cooked rice balls together.
Sometimes cute frogs and rice grass hoppers surprised us while we were working in the paddy but it made us smile. I was so touched to see the scenery that all the participants shared the joy of harvesting and working together.
After we worked in the paddy, we asked the foreigners to cook rice balls with locals including kids. The purpose of the rice ball activity was to introduce Japanese food culture to the foreigners. From my point of view, the foreign participants were more interested in food culture in comparison to Japanese people. It was very impressive to see how they were excited while cooking rice balls.
I think the next event will be the poster session of our brand new Japanese sake.
I'm looking forward to having a taste of the sake with all the foreign participants!!!
I will cherish my memories that we worked hard with full of joy.
Now I would say, with the great memories, "Let's enjoy our brand new sake together!!!"
See you soon.
Mr. Yasu
●外国人に話すのは恥ずかしくありません!!!
今回で外国人とのふれあいは三回目となりましたが、徐々に外国の方との交流の際にも緊張しなくなり、気楽に接することができるようになりました。
その中で、どのようにしたら日本の文化や福島の良さを伝えられるか考えていましたが、想像以上に外国人の方は反応がよく、案内している側としても楽しく紹介できることに最近気が付き始めました。
ボイストラなど通訳アプリを使用してつたない英語で案内するのですが、多少間違っていてもめげずに話しかけると、相手も理解しようとしてくれて自然と打ち解けるようになります。
はじめは少し戸惑っていた子どもたちも交流が重なるにつれて慣れていくのを目の当たりにしていますので、子どもながらに世界観が広がっていっていると感じています。
今回は日本酒造りのための稲刈りとおにぎり作り体験。
時々、田んぼに登場するカエルやバッタなどに驚きながらも顔を見合わせ笑顔が自然とこぼれたり、作業を通してともに汗をかいて収穫の喜びを分かち合う姿に感動しました。その後のおにぎり作りではさらに、日本文化を体験いただいたのですが、食に対する意識は日本人より高いような気がするくらい、その眼は真剣で、おいしいものができるようにとワクワクしながらの料理も印象的でした。
稲の収穫も終わり、いよいよ今度集まるころには日本酒ができているのかな。
さあ、ぜひまたみんな集まって試飲しましょうね。みんなの楽しい交流と一生懸命作業した思いを乗せて最後に、"Let's enjoy our brand new sake together!!!"
またお会いしましょう。
ミスターヤス