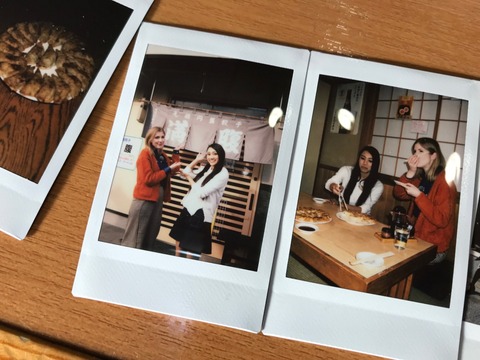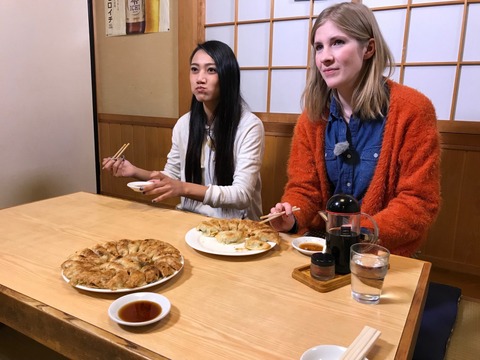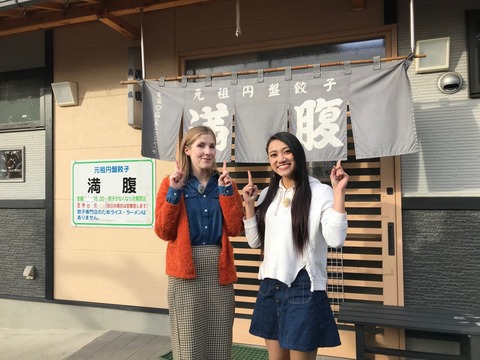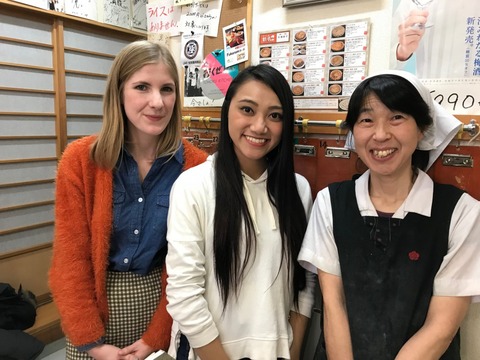 ●Filming videos(Part 2: Enjoying "Enban-gyoza" (Fukushima style dumplings))
Hello, this is Ken. It's been a long time and I should say "Happy new year!", first of all.
As I told you before, now our office is filming some videos regarding the delights of our place.
As one of our specialties, we shot a video about "Enban-gyoza" (Fukushima style dumplings) the other day.
Ai Kobayashi and Zoe Vincent visited two of very famous dumplings restaurants in Fukushima.
Specifically, the name of the restaurants are, " Terui" and " Manpuku".
Local people like to go to the restaurants so much that usually the restaurants are crowded.
Although being very busy, the owners kindly opened their restaurants earlier than usual and they prepared super high quality dumplings for two girls and other staff members.
Ai and Zoe enjoyed the dumplings a lot and to be honest, other staff members also enjoyed the dumplings then we realized again why they were so popular among not only Fukushima residents but also visitors from other areas. Actually they have so many frequent customers.
As I mentioned before, Fukushima style dumplings are based on Chinese style dumplings.
People who used to live in the northeastern part of China came back to Fukushima after the second world war and some of them started cooking dumplings with "Shichirin" (Japanese traditional portable clay cooking stoves).
People in Fukushima have improved the original dumplings and still owners of those restaurants are trying to improve the taste, texture and ingredients continuously.
Therefore, every time you come to Fukushima to have the dumplings, you can find something new.
We are going to upload the video we filmed this time in March.
We would like you to watch the video and of course come enjoy Fukushima style dumplings before the video appears, if possible.
See you soon.
●ビデオ撮影(第二弾:ふくしまの円盤餃子を楽しむ)
こんにちは。お久しぶりですね。まずはあけましておめでとうと言うべきかもしれません。
以前お伝えした通り、私どもの事務所では現在私たちが誇る宝をビデオに収めています。
その一つとして、先日、ふくしまスタイルの円盤餃子のビデオを撮影しました。
小林愛さんとゾーイ・ヴィンセントさんは、福島で最も有名な餃子レストランのうち2つを訪ねました。レストランの名前は「照井」と「満腹」です。
地元の人たちは、本当にこのレストランが大好きで、お店はいつも混んでいます。
忙しいにも関わらず、お店のオーナーさんはいつもよりお店をはやく開けてくれて、二人の女性と他のスタッフのために本当にクオリティーの高い餃子を準備してくださいました。
愛さんもゾーイさんも本当に餃子を楽しんでくれたのですが、正直他のスタッフも楽しみました。そしてなぜこの餃子が福島だけでなく他の地域から来た人にも人気が高いのか再認識しました。これらのお店は本当に常連さんが多いんです。
以前お伝えした通り、ふくしまの餃子はもともと中国の餃子にルーツがあります。
中国東北部に住んでいた人たちが、戦後ふくしまに引き揚げてきて、七輪を使って餃子を焼き始めました。
ふくしまの人たちはこの餃子に改良を重ねて、今でもレストランの方々は味や歯触り、材料などを絶え間なく改良しています。
そういったこともあり、みなさんがふくしまに来て餃子を食べるたび、何か新しいものを発見することになります。
このビデオは3月にユーチューブで公開します。
ビデオも見てほしいのですが、もしできるなら、ビデオを見る前にふくしまに来て餃子を楽しんでいただきたいですね。
では。