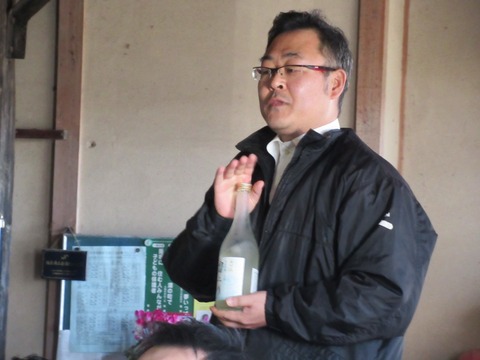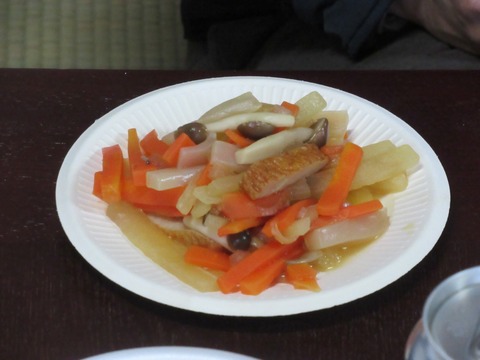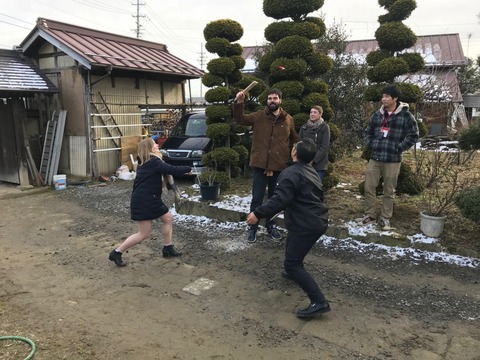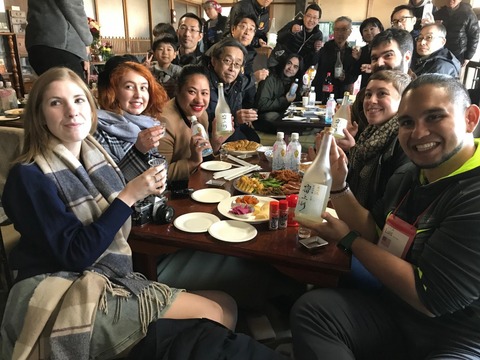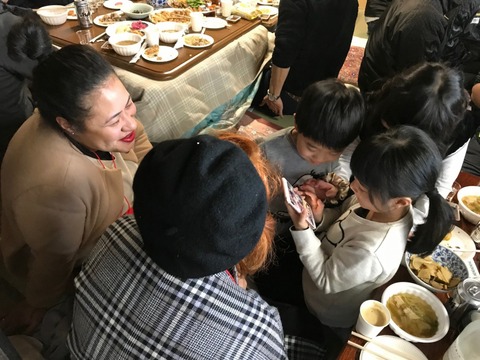 ●The tasting party for "Surikamigawa", Japanese sake with 100% local ingredients and water only from Fukushima city.
Hello,
My name is Kouki Yaginuma, the young master of a hot spring inn in Iizaka Onsen (hot spring) area.
There was the tasting party for our brand new sake "Surikamigawa" on January the 13th.
This sake is made from ingredients and water only from Fukushima city.
We planted the rice in Spring, made a lot of scarecrows in summer and harvested the rice in fall. And the rice we grew up was luckily qualified to be used for our brand new sake.
(There was possibility that the sake master didn't use our rice in case the quality was not so good.)
Before the party, some of the participants tried to cook "Enban-gyoza" (Fukushima style dumplings). And some of young masters of hot spring inns who have the certificate of "Kikizakeshi" (Japanese sake sommelier) cooked some traditional dishes that would go well with our sake for the party.
We started the party with the dumplings we had cooked just before the party and the foods the young masters had prepared.
As a sake sommelier, I would say, the sake has a kind of fruit taste, and has very strong but good scent. I mean the sake is so friendly that we can drink it very smoothly. It was very happy for me to see all the people there having the sake and the dishes with fun.
After the meal, we some participants including some kids and foreigners played "Hane-tsuki" (Japanese traditional badminton only played during the new year's days).
There is a very interesting rule regarding this game. Winners can draw something on the losers faces with black charcoal ink. Abiding by this rule, it seemed that everyone enjoyed the game without feeling the language barrier. It was very nice to see them playing the game with smile.
We are going to make our sake again next year. I would love many foreign people to attend the activities regarding our sake program. I wish participants from other countries will realize the delights of Fukushima and that people in Fukushima live very happily.
See you again.
●福島市産日本酒「摺上川」完成お披露目会
こんにちは。
飯坂温泉の若旦那、柳沼です。
春の田植え、夏の案山子づくり、秋の稲刈りと、みんなで共同作業して作ったオール福島市産の日本酒「摺上川」のお披露目会が1月13日に行われました。
お酒のお披露目の前に、いつも好評をいただいている餃子を、せっかくの機会ということでみんなで作りました。また私たち利き酒師の資格を持つ若旦那が作った料理も持ち込んで、お披露目会がスタートしました。
お酒はフルーティーですが香りも強く、すっきりと飲み口のよいものに仕上がっていました。みなさん、お酒も料理も喜んでいただけたようで何よりです。
食事の後には、お子さんと外国人のみなさんで日本の昔ながらの遊び「羽根つき」を楽しみました。負けると顔に墨を塗られるのですが、子どもたちも外国人の方も言葉の壁など関係なく、ニコニコ楽しんでいる姿がとても印象的でした。
来年も日本酒づくりを行う予定になっていますので、来年もぜひ多くの外国人の方に参加いただき、ふくしまの良さや、元気な福島の姿を実感していただければと思っています。
それではまた。