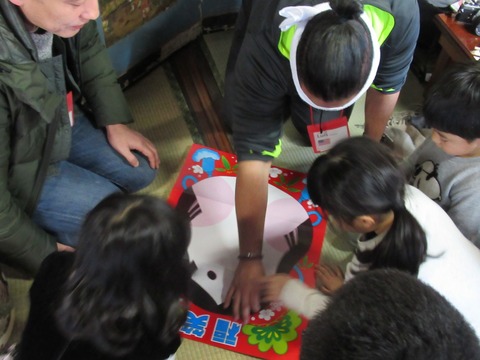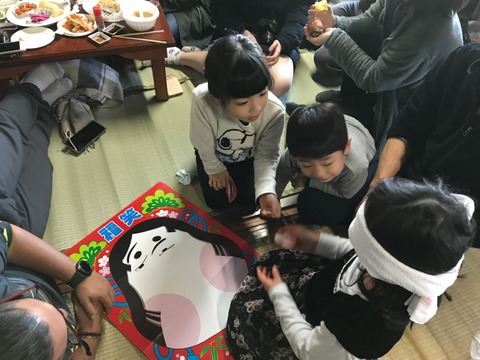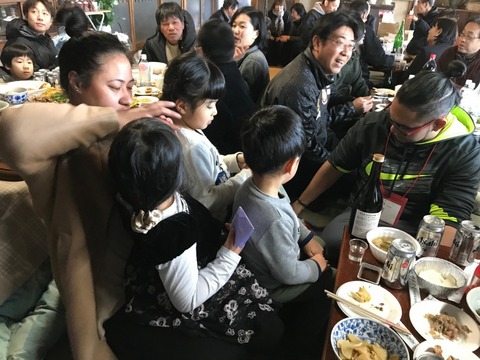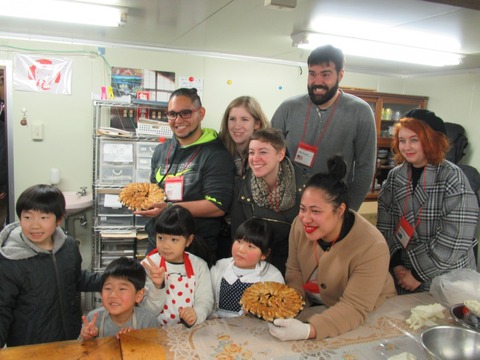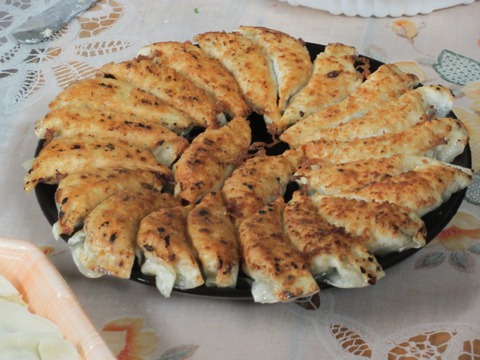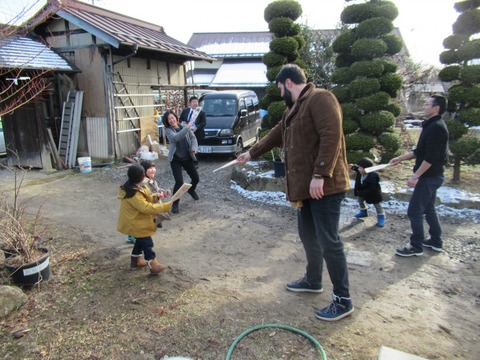 ●Tasting party for our "Surikami-gawa" (High quality sake with no added alcohol)
The other day, we attended the tasting party for "Surikami-gawa"(brand new sake). This party was held by "Let's create an Iizaka onsen's original Japanese sake association", to have a taste of the fruit of our activities for this fiscal year.
That was the fourth time for us to participate in the sake activities. We enjoyed planting rice in May, setting up some bird deterrents such as scarecrows in July, harvesting the rice in September. And finally we enjoyed the results of our activities, the brand new sake!
We adults had been looking forward to having the sake and kids had been longing for making and eating Fukushima style dumplings (arranged and broiled in a disc shape).
We cooked dumplings then we had the sake with them. That combination was so nice that we enjoyed them from the bottom of our hearts.
With the full stomachs, we played two types of activity that we usually enjoy only during new year's holidays. Those were "Fukuwarai"(Making a funny face: please refer to the photos above) and "Hanetsuki" (Japanese traditional badminton).
We had to follow the strict rule of "Hanetsuki". Winners could draw a letter or picture on losers' faces with black carbon ink. Kids were also very serious not to get black marks on their faces. (Originally it was not a penalty, but a ritual to avoid evils, it is said.)
Neither the foreigners nor we Japanese people had any chances to play these traditional games recently, so it was a great opportunity to look back on our traditions.
It was really wonderful for us to attend all the events regarding our sake, and have chances to get in touch with attendees from other countries. Our kids won't forget all the things we experienced through the events.
Thank you for having us, giving us fantastic memories.
Kikuta family (Yuichiro, Miho, Rio, Ryusei)
●純米吟醸「摺上川」を楽しむ会
今回の交流は、飯坂温泉地酒をつくる会の締めくくりとして出来上がったお酒を楽しむ会でした。
昨年5月の酒米の田植え、7月の鳥よけのためのカカシなどの設置、9月の稲刈り、そして今回1月の地酒を楽しむ会と4回目の交流となりました。
親の私たちは飯坂で初めての地酒を呑めることを心待ちにし、子どもたちは円盤餃子を作って食べることを楽しみにしながら参加しました。
今回の会場は、築200年以上で囲炉裏のある飯坂温泉地酒をつくる会の会長の自宅で行われました。
まずは円盤餃子づくりをして、出来上がった熱々の餃子をお酒のおともにしていただき、お酒も餃子もおいしくいただくことができました。
おなかがいっぱいになった後は、外国の方々と正月遊びである福笑いと羽子板での羽根つきをしました。
羽根つきでは、失敗すれば墨が塗られるという昔ながらのルールだったので、子どもたちも自分が塗られないように一生懸命がんばっていました。(本来、墨を塗るのは罰ゲームではなく、魔除けの意味を込めているようです。)
こういった正月遊びは、外国の方のみならず、日本人の私たちも現代ではなかなか体験できることではないので、大変貴重な体験をすることができました。
今回、地酒づくりに田植えから1年間通して関わり、その中で外国の方々と様々な形で触れ合うことができたことは大変有意義な経験となり、よい思い出として子どもたちの思い出の1ページに刻まれたことでしょう。
楽しい思い出をありがとうございました。
菊田雄一郎・美帆・莉央・琉生